Bojangles' Restaurants, Inc. resigns Country Music Singer/Songwriter Tammie Davis to co-marketing/sponsorship deal for 2012.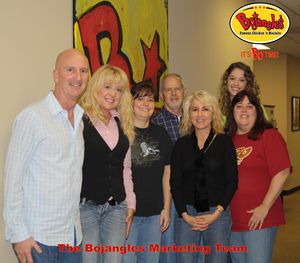 FOR IMMEDIATE RELEASE Charlotte, NC – (March 5, 2012)
 Tammie Davis, Female Country Artist of the Year for the Carolinas has partnered with Bojangles' Restaurants, Inc. for the second year in a row. This co-marketing/sponsorship deal includes appearances, social networking, marketing and promotions. Bojangles' representative and Field Marketing Manager, Ken Reynolds, of the Charlotte, NC headquarters location stated that "Bojangles' is excited about Tammie's continued success in the music industry and we look forward to charting 2012."
During 2011, Tammie performed with Charlie Daniels in Las Vegas and was chosen to perform at the Rapids Jam Music Festival with Lady A, Sugarland, Jason Michael Carroll, Colt Ford and others.  2011 became an even bigger year when Tammie was named the Female Country Artist of the Year for the Carolinas by the Carolina Music Awards.  Late in the year, Tammie was invited to sing the National Anthem in front of her first ARCA Racing audience in Kansas City on October 7, 2011. The very next week she sang again at Bojangles Pole Night in Charlotte, NC for a NASCAR audience.  Tammie was asked to sing the National Anthem over twenty times during 2011 and was able to schedule and perform twelve of them.
With one Music Row charting and nationally released song under her belt, Tammie and her management team plan to release a second single during 2012 with additional plans for a new album.  Tammie says, "2011 was an incredible year for me and I'm not stopping now.  I've been so blessed with so much support and love.  Thank you to my family, friends and fans who cheer me on every single day and thank you to Bojangles' for all their support.  It's so great to have you all by my side."
Founded in 1977 in Charlotte, N.C., Bojangles' Restaurants Inc. serves only the highest quality and most flavorful food to its loyal customers, with all of its proprietary menu items made from scratch.   First franchised in 1978, Bojangles' boasts close to 500 locations in 10 states, primarily in the Southeast. The company was named one of the top 10 growth concepts in 2009 by both GE Capital and QSR magazine.  Its strong performance in all three day parts is what sets Bojangles' apart from all other restaurants.
For more information, visit www.TammieDavisMusic.com
For more information about Bojangles' Restaurants, Inc., visit www.Bojangles.com