Tammie's Cowboy Chili Bean Recipe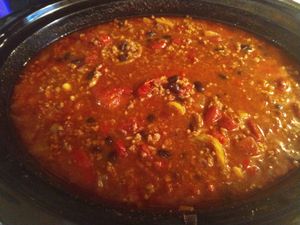 I had lots of fun coming up with this chili recipe. This was the first time I had made Chili Beans. I made a few changes to the recipe in order to give you a full 5 quart crock-pot full of chili beans with lots of meat.
Watch my video blog posted to the bottom of this recipe for my talk about this experience. Good luck with your Chili Beans and I hope your family enjoys them as much as mine did.
Lots of Love, Tammie
Ingredients:
3-3.5 lbs of Ground Beef (Cook in frying pan and drain well)
(3) 15 oz cans of whole tomatoes (quartered) Use the juice from 1 can and half of the juice from a second can.
Note: I like using 3-4 cups of fresh tomatoes but use can tomatoes if you don't have fresh ones. You can also use diced tomatoes but don't use all of the juice from three cans. This will make your chili too soupy.
(1) 15 oz can of Beef Broth
(1) 14.5 oz can of Rotel Diced Tomatoes (juice and all)
1/2 Cup of Banana Peppers (Up to one whole cup without juice)
1 Tablespoon of Banana Pepper juice
1-3 Tablespoons of Minced Onions (to your taste)
2 Tablespoons of Ground Cumin
3 Tablespoons of Chili Powder
1/2 Tablespoon of Paprika (up to 1 whole tablespoon to your taste)
(3) 15 oz (or 14.5 oz) Cans of Kidney Beans (only use the juice from the first two cans - drain the third can)
(1)  15 oz (or 14.5 oz) Can of Black Beans (juice and all)
8 Cloves (finely chopped and brown in frying pan with small amount of butter)
(1) 4 oz Jar of sliced pimientos (juice and all)
(1) package of McCormick Chili Seasoning mix
1/4 Teaspoon of White Pepper (can use up to 1/2 or 1 whole according to your taste)
(1) Red Onion (med to large) diced and lightly fried in pan with small amount of butter (For a sweeter onion, use 
     a Vidalia onion when in season.)
Instructions:
Place ingredients in 5 quart Crock-pot (you can use one that is larger but this recipe only makes 5 quarts) on high for 1 hour and a half (90 minutes). Stir every 15 minutes. Then place on low for 2-3 hours until chili is well cooked.
Serve at medium temperature (not hot) with diced green onion, optional sour cream, and grated cheese as toppers.
Watch video for more tips.
Optional Items to make hotter chili:
Use Jalapenos instead of Banana Peppers or in addition to in order to make your chili hot.
Use a yellow onion for hotter chili
Use the 'hot' Rotel Diced Tomatoes for hotter chili
Note: if you like your chili strong, you can add more chili powder and ground cumin but I would try the recipe "as is" the first time and experiment with it after that.
Happy Cooking!