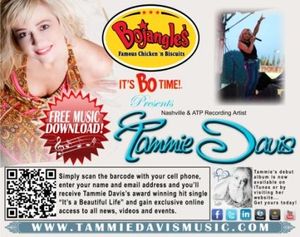 Carolina's Own, Tammie Davis appearing on Bojangles' Restaurants, Inc. tray liners at participating locations starting week of October 14, 2013. 
Nashville, Tennessee (October 18, 2013) ATP Records-Nashville and Southeastern U.S. Regional Country Music Artist, Tammie Davis will appear on tray liners at participating Bojangles' Restaurant locations starting week of October 14, 2013. Tammie is sponsored by the Charlotte, N.C.-based restaurant chain which was named one of Forbes' top 12 best fast-food franchises to own, as well as recognized as the fastest growing chicken chain by Technomic in 2013. Bojangles' boasts more than 555 locations in 10 states, primarily in the Southeast, as well as the District of Columbia and three international The tray liner will display a photo of Tammie, the Bojangles' Restaurant logo, "It's A Beautiful Life" CD cover and a barcode to scan via your mobile phone to receive a free download of Tammie's music. The tray liners will appear at participating North Carolina and Tennessee locations.
 
In 2010, Tammie has turned heads with her debut CD 'It's a Beautiful Life' which was released to over four-hundred digital distribution outlets. It can be heard streaming on Pandora.com which makes Tammie one of the few independent artists accepted by the largest internet radio station. 'It's A Beautiful Life' the single, was released to national and international country radio and was picked up by one-hundred forty radio stations across the U.S., Europe, Japan, Canada and twelve other countries. Tammie is also getting attention from NASCAR with her continued invites to perform the National Anthem at NASCAR Speedways in Kansas City and Charlotte.
 
In 2012 and 2013, Tammie made multiple appearances on RFD-TV Virginia Dreams Center Stage TV show viewed by millions. Tammie is currently performing across North Carolina and the southeastern United States. In recent months, Tammie Davis has partnered with The Catapult Group of Charlotte, NC for marketing, promotions, business & tour management. For more information about Tammie Davis, please visit; http://www.tammiedavismusic.com
 
Tray Liner published by Bojangles' Restaurants, Inc. and created by The Catapult Group of Charlotte, NC. All rights reserved 2013.
Connect with Tammie Davis and Bojangles on Facebook.
https://www.facebook.com/tammiedavisband
http://www.facebook.com/Bojangles
Bojangles' Official Website http://www.bojangles.com