I'm so tired of having a sinus headache every single time the weather is cloudy or nasty. I've been taking the Aller-Max Supplement and it has helped a lot with allergies but I need something else to take care of the pressure. I did a little research and found this on the internet.
Bromelain Health Benefits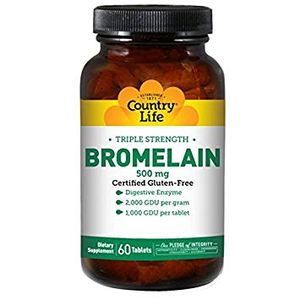 In the medical world, this fascinating compound has traditionally been used as a potent anti-inflammatory and anti-swelling agent. Additionally, recent studies have showed us that it stops lung metastasis in its tracks, which suggests that bromelain can be used to treat a wide variety of diseases. 
Also, because it's commonly used as a meat tenderizer, bromelain can also help soothe and relaxes tense, inflamed muscles and connective tissue. The widespread healing power of this enzyme is truly remarkable! 
When I looked at the scientific literature, I found that bromelain has been used to treat a wide range of health problems including: 
ACL tears 
Allergies 
Arthritis and joint pain 
Asthma 
Autoimmune diseases 
Cancer 
Inflammatory Bowel Disease 
Sinus infections 
Sprained ankles 
Tendonitis

Here's the whole article on Bromelain. I'll post again when it comes in and let you know how it is working.

Lots of Love,
Tammie