Tammie's Ranch Chicken Casserole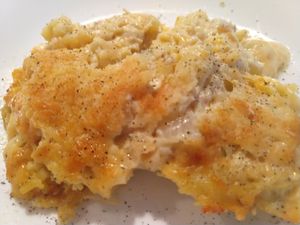 I've been making my Ranch Chicken Casserole for about a year and a half now and everyone has commented on how good it is so now I want to share the recipe with you.
I first discovered this awesome dish at K&W Restaurant which is a southeastern U.S. chain buffet style restaurant and have loved it ever since. I did some research and found a basic recipe and built upon it to make it into this dish. I like to make a lot of this at one time and freeze it for later. I also usually end up giving  a lot away because friends know how good it is and I enjoy watching them enjoy this dish.
I hope your family enjoys this dish as much as mine does. Tammie
Note: This recipe makes (2) Casseroles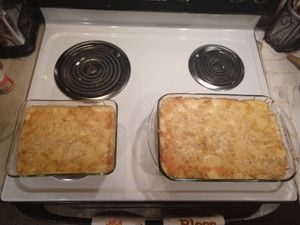 You will need:
(1) Extra large mixing bowl 
(1) Large mixing bowl
(1) Large cooking pot - to cook chicken (I use a large pot with a colander insert.)
Water to boil chicken - I suggest 'not' using tap water to cook your chicken unless the water has been boiled first then cooled. I used bottled water - you can purchase the gallon size bottled water. Harsh chemicals in the tap water can alter the taste of your chicken. If you have filtered water then you don't have to worry about using bottled water.
Cooking Spray - I used coconut oil spray
Butter - for cooking onions in frying pan and cooking chicken (1 stick of butter should be enough for both)
(1) 9½" X 7½" Casserole Dish (or similar in size)
(1) 9" X 13" Casserole Dish 
Preparing the Chicken:
5-6 lb Whole Chicken or (4-5) full cups of cooked chicken breasts - pulled or cubed - I prefer pulled but you can certainly cube the chicken if you like that better.
Put in with chicken when cooking: (1) Tablespoon salt, ¼ Teaspoon black pepper, ¼ Teaspoon Garlic pepper seasoning, ½ stick of butter (salted or unsalted is fine) Fill pot with water to cover chicken. Be careful if you are using a pot with a built in colander, water will boil out between the colander and the pot if you boil on high temp. and water level is too high inside the pot. 
Cook Whole Chicken for 1.5 hours (slow boil) Use large cooking pot. placed chicken, and spices along with the water in the pot, bring to boil, cut down to med temp. and slow boil. (Note: Don't forget to take out the inside packet that's inside the chicken containing the liver and other parts of the chicken before cooking.)

If you are using chicken breasts, you won't need to boil as long. (45 mins to 1 hour will be plenty of cooking time if not cooking whole chicken.
Don't forget to save the chicken broth to use in your casserole mixture.
Allow chicken to cool almost completely before removing the bones, fat and unwanted parts.
Other Ingredients:
(1) 22 oz can (family size) Cream of Chicken Soup
(1) 10 oz can (reg size) Cream of Chicken Soup
(1) 16 oz Container of Sour Cream
(2) Cups of Chicken Broth
(1) 10 oz can Cream of Mushroom Soup
(1) Large White Onion (chopped & sauteed in butter slightly caramelized (light browned not cooked all the way)
(3) Packages of Ranch Salad Dressing Seasoning Mix
(1) Whole Box 16 oz of Spiral Macaroni (Rotini) Boiled in water for 10 minutes with a little bit of butter and salt)    **Drained but not rinsed
(1) Whole Bag of Shredded Philadelphia Creamy Melt Triple Cheddar Cheese
(1) 6 oz Container of fancy Parmesan Cheese
Instructions:
In extra large bowl, place macaroni, cooked onion, and chicken.

In other bowl, mix together soup mixes, ranch dressing mix, and sour cream.

Empty soup mix mixture into the bowl with chicken/macaroni/onions.

Mix together carefully not to damage the macaroni - flipping motion.

Add chicken broth. Mix.

Add shredded cheese. Mix.

Spray casserole dishes with cooking spray.

Empty mixture into casserole dishes to fill dishes until they are mostly full. Leave some space at top for toppers placed on during last ten minutes of baking.
Baking Instructions:
Bake on 350° for 25-30 minutes until bubbly.

Take out of oven and add Parmesan cheese evenly.

Back on 350° for an additional 10 mins.

Change oven to the "Broil" setting for an additional 5 minutes to brown the top.

Remove from oven and let cool.

Serve med. hot.

Or Cool completely, cover and refrigerate. To re-warm, place small portion in microwave for 1 min. or until center is hot. Be careful to not over cook in microwave.

Or refrigerate overnight, cut into serving sizes and freeze in freezer bag for quick meals. (My favorite thing to do for quick meals.)
Happy Cooking!