Tammie's Cornbread Recipe (& Corn Muffins)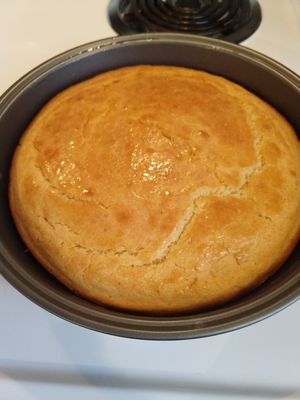 I recently made cornbread and cornbread muffins which I had not made in quite a while. Last time I made cornbread, it turned out a bit dry so I was determined to make cornbread that was moist on the inside but with an outer crispy shell and what-a-ya know, jackpot. I was so excited that I made a post to Facebook about it. Several Facebook friends asked for the recipe so here it is. I may make a video one day to explain everything in detail but, in the meantime, if you have any questions, please feel free to email me at: tammiedavisband@gmail.com. 
Ingredients:
2 Cups of Cornmeal (I used white/water ground but you can use your favorite cornmeal)
1/2 Cup of Self Rising Flour
2 Cups of Buttermilk (room temperature)
1/2 Stick of Salted Butter (Melted)
1/3 Cup of Whole Milk
1/4 Teaspoon of Baking Powder
1/2 Tablespoon of Baking Soda
3 Eggs (Large - Beaten) Room Temperature
1 Tablespoon of Sugar or Honey (If you like sweet cornbread, you can use both or more of each)
1 Tablespoon of Crisco (I use a large regular spoon, not a measuring spoon for this.)
Non-Stick pans are recommended - you can also use cast iron pan and muffin pan.
2 Tablespoons of melted butter - to use for brushing when you take out of the oven.
Instructions:
Preheat oven to 375 Degrees
1. In large bowl, place your cornmeal, self rising flour, baking powder, baking soda, and sugar.
2. Mix well with fork.
3. If your Buttermilk is cold, use a small pot to warm to room temperature. (I turned the burner on low, placed the buttermilk in the pot (1 cup at a time) and swirled the pot around on the burner for about a minute and kept testing it until it reached room temp. Be careful not to make it warm or hot, only room temperature.)
4. Beat eggs in separate bowl, then when beaten well, add to flour mixture and mix well.
5. Add buttermilk to flour and stir in well with wooden spoon or other mixing spoon.
6. Add regular whole milk, mix well.
7. Add honey and melted butter, mix well.
8. Spray muffin pan with non-stick spray. (I use coconut oil spray but you can use regular cooking spray.)
9. Put heaping tablespoon of Crisco in baking pan (the pan you are using to bake the cornbread in) and place in preheated oven until melted. Do not leave in too long, it will start to smoke.
10. Add melted Crisco to your cornbread mixture and fold well into mix. Do not let your batter set for a long period of time once adding the melted Crisco. You should place into the oven immediately after adding the Crisco. It should be the last thing you do before placing into the oven.
This mixture will make (1) pan of cornbread (about 7" pan) and (6) Corn Muffins (Large). I used a 1/3 cup measuring cup to spoon mixture into the muffin pan.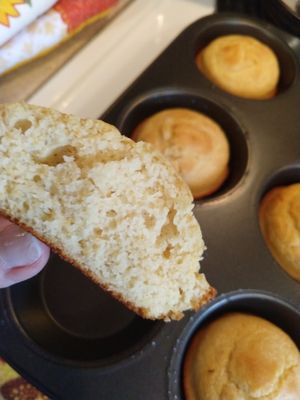 Baking Time:
7-8" Round Pan - Bake for 30 Minutes
Large Muffin Pan - Bake for 25 Minutes
Or until golden brown on top.
Use Center Oven Rack location - too low rack can cause your bread to burn on the bottom.
Brush with melted Butter when bread is fresh/hot from the oven.
Hope you enjoy!!
Tammie